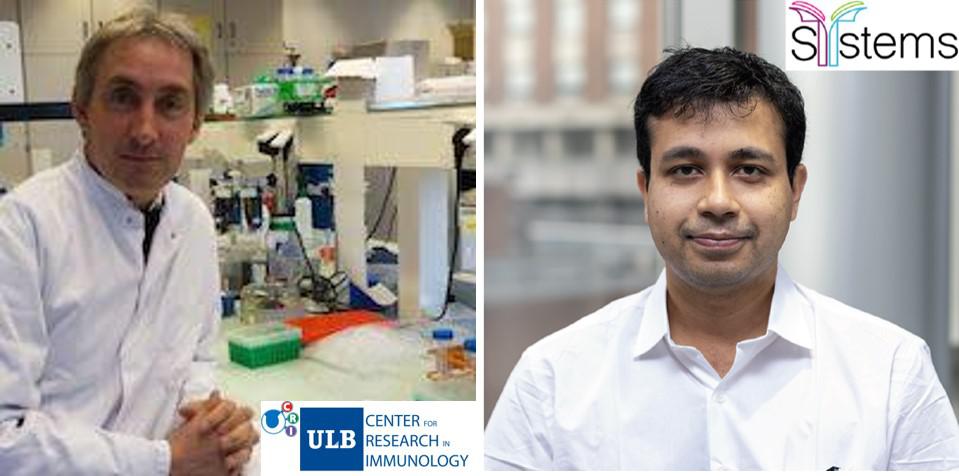 Recently, a collaborative research agreement was signed between U-CRI and the Center for Systems Immunology (CSI) at the University of Pittsburgh. This signing concretizes the continuation of a collaboration that began several years ago between Drs Arnaud Marchant and Jishnu Das.

Dr. Jishnu Das is Assistant Professor at the Departments of Immunology and Computational and Systems Biology and Core Faculty member at the CSI. He has strong expertise in computational systems analyses of immunological data and his research focuses on the development and use of novel machine learning and network systems approaches to analyze high-dimensional immunological datasets in a wide range of contexts, with an emphasis on autoimmune and alloimmune disorders. Current research in his lab has 2 broad arms:

Creative use of existing machine-learning, high-dimensional statistical and topological network analyses methods for biologically meaningful integration of multi-omic datasets. These analyses help us understand immune mechanisms in a wide range of contexts, encompassing both natural and vaccine-mediated immunity.
Development of novel methods (at the intersection of machine learning and network systems biology) for the analyses of high-dimensional immunological datasets (transcriptomic, phenotypic and functional).
Dr. Das's expertise and current research are therefore perfectly aligned with the U-CRI's research questions. It is envisioned that through this collaboration, the research programs of both the U-CRI and Dr. Das will be significantly furthered, spawn new research directions and lead to numerous publications in the coming years…